In September of last year, Microsoft opened up the ability for Game Pass Ultimate subscribers to stream gaming titles to portable devices. Suddenly, titles like Forza 7, Control, Ark, Destiny 2, Doom Eternal, Fallout 76 and most recently even Skyrim became playable directly on compatible Android devices, among others. This was huge! For someone like myself that's looking to the cloud as the future of gaming, I couldn't help but hope that just maybe this was the solution for someone looking to replace aging gaming hardware without actually buying a new computer or console. Of course, some testing had to be done. Just as with my prior post about Stadia, the question was: can xCloud and Game Pass Ultimate be a viable alternative to console and PC gaming?
Let's take a closer look.
What is xCloud and Game Pass Ultimate?
xCloud is part of the Xbox Game Pass Ultimate edition. It's a streaming technology that became available to the general public back in September. Through this service, you get access to games you can download and install on your PC, similar to the PC version of Game Pass, but you also get the ability to stream some titles directly to your compatible mobile device. In essence, you get premium PC titles on your Android phone or tablet.
What Does it Cost?
You can get the first month for a $1, which is a great way to check out what the service offers, how well it works and whether the games are to your liking. After the first month, you pay $14.99/month. You can also get just the PC or XBox version of Game Pass (without the streaming) for $9.99/month.
Are There Any Games?
Yes, plenty! In fact, there are a number of high profiles games available through the service, as I mentioned above. For PC download, there are titles such as Flight Simulator 2020, the Forza series, No Man's Sky, Control and many, many more. In fact, it was through this service that I got a chance to try out Flight Simulator 2020 for just $1. It was a great way to see whether this beast of a game would actually work on my computer (it does). In other words, there is no lack of games.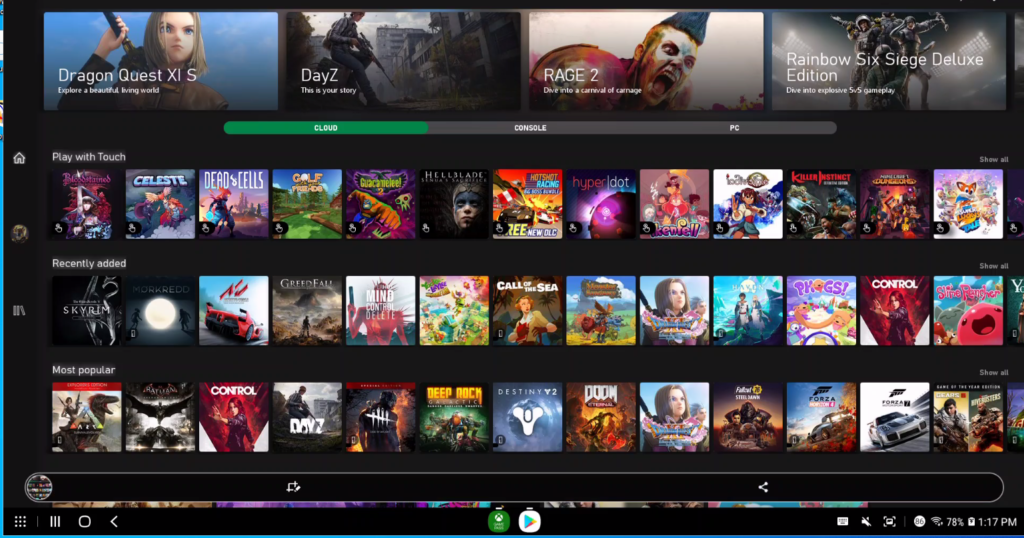 The selection available to stream for xCloud isn't the same as it is for download and local install. Because the current xCloud titles are streamed XBox titles (as far as I understand), the games in question would need to be available on XBox to be able to be streamed. That excludes some titles (like Flight Simulator) but there's still plenty of high profile titles to play around with. Just a few weeks ago, Skyrim was introduced as one of the titles that could be streamed. Playing Skyrim on my Android tablet, that's quite something and it's something I never thought I would do (although considering Bethesda has ported Skyrim to every other platform, why not Android? Hm?)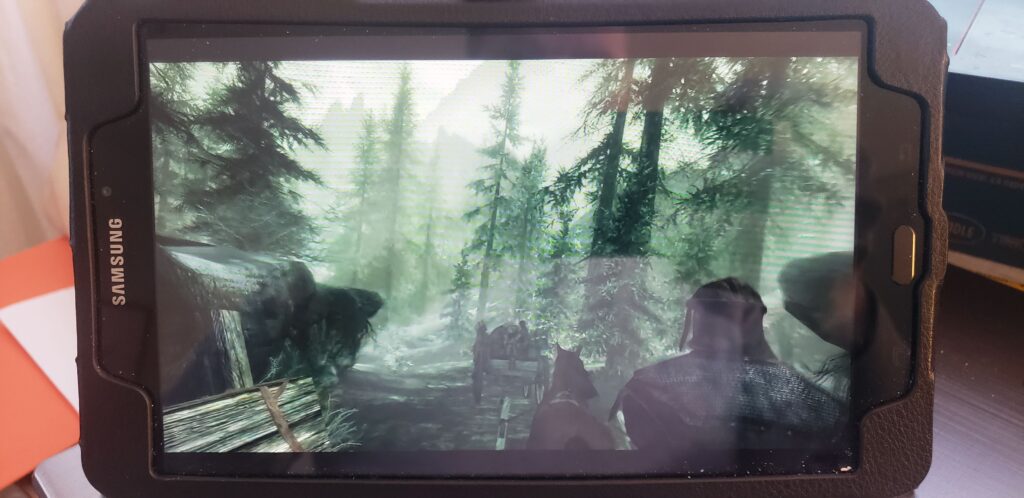 The one downside to the gaming library is that the titles tend to rotate in and out. I haven't had the service long enough to determine how this affects gaming in the long term but typically what seems to happen is that when a title is removed from the library, you have an opportunity to buy the game at a discount. Then new titles come along every month for you to enjoy.
Does It Work Well?
It depends. The aspect of downloading a title and trying it isn't much different from buying it through the Microsoft Store. There are a few other other steps which includes authorization through the Xbox app but overall, it's a minor inconvenience that isn't different than playing games through other game stores like Origin or Ubisoft Connect. I've tried downloading a handful of games this way and it works as well as one would expect. No issues there.
The streaming portion is a bit more shaky. First of all, the fact that xCloud currently is limited to mobile devices is a big negative for me. I rarely, if ever, play games on my phone or tablet so to be limited to a smaller screen isn't appealing to me, even with a Bluetooth controller. However, if I overlook that fact and just look at streaming performance, I have yet to get xCloud to be as responsive as Stadia. In games like Forza there is a very clear control lag of at least a second, which makes games like Forza impossible to play.
I suspect this is where the Alaska factor comes in, with distances from Alaska to the data centers just being too far to work well enough. For me, that's a deal breaker. Although Forza is beautiful on a tablet, I end up watching stones fly from the stone walls I crash into more than I see the road. It's unplayable.
Is It A Viable Alternative?
It totally depends on how you play your games. If you're ok with downloading games to your PC, you're golden. There are more than enough games to keep any gamer busy for months and months. If you're ok with streaming games to an Android tablet, for example, you're golden (assuming you have a better experience than I have.). However, for me, where I'm looking at a way to make cloud gaming a viable alternative to buying new hardware, xCloud just doesn't quite fit the bill yet. I'd want to be able to stream these games to my PC, not a tablet. Today, I can't really do that out of the box. The other part that I struggle with is the constantly rotating library of titles. I'm more of a casual gamer, which means I'll take months to get through a title. What if that title is suddenly rotated out and I have to pay to buy it just so I can continue? I don't like that aspect either.
This leaves me a bit conflicted about Game Pass Ultimate. As much as I enjoy being able to download the games that I can for a relatively small monthly fee, the streaming aspect that really would be useful for me just doesn't work well enough for the games I want to play to be practical.
Of course, the good news is that it was announced not long ago that the goal is to make xCloud available on PC in 2021. When that happens, I suspect my opinion may change, especially if I'll be able to stream Flight Simulator 2020. Assuming, of course, that latency doesn't continue to be an issue.So, although XBox Game Pass and xCloud isn't quite for me at the moment, I get that it is for many others. I'll revisit the service once streaming rolls out to PC.
What are your thoughts on Game Pass Ultimate? Are you a fan or not?