One of the awesome aspects of Flight Simulator 2020 is the realism. I can take off from my local airport and see my subdivision and my house. Obviously, in the grand scheme of things, seeing my house is insignificant when I can go see the Grand Canyon but it is fun to be able to explore what I consider interesting.
Throughout the flight sim community, pilots are exploring the world. To some extent, I have done so as well. But, the one thing I wanted to do since the day I installed FS2020 was to take a trip around Alaska.
This week, I started planning this very trip. One important consideration for me is the time spent flying. The time I have to devote to playing game is limited by time available in a day so to be able to accomplish this trip, I need to divide it up in achievable chunks that are less than an hour each, preferably less.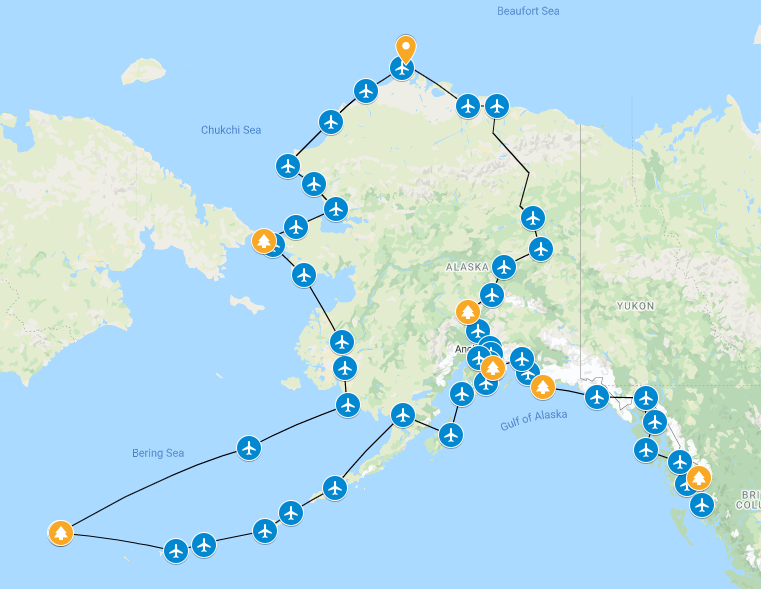 I also need to consider the plane I use. If I pick a slow plane, the progress will also be slow. I discounted the jets right away. Why? Some of the locations on my trip are smaller villages with shorter landing strips. Taking an Airbus into one of those strips isn't realistic and for that same reason I've taken the smaller jets out of consideration a well.
Although I like slower planes like the Cessna, it's a bit on the slow side. In the end, I settled on the Beechcraft King Air. I've always like this aircraft, even prior to FS2020, and it strikes a good balance between speed, distance and size. We'll see as the trip goes on whether I'll stick with it or try a different plane.
Then, it was time to look at my flight plan. What communities did I want to fly into? In some cases, sightseeing in nearby areas was a consideration while in other cases, short flights was the main focus. After spending an hour looking over Google Maps and comparing to available airports in FS2020, I ended up with a list of 46 airports.
My trip begins on Prince Rupert Island. Yes, I know that's not in Alaska but it's close to the southern tip of Alaska and there's a beautiful stretch of water between there and my first stop, Ketchikan. From there, I'll work my way up towards Juneau, the Capital of Alaska. From there, I head north towards Valdez before turning south. I'll pass through Kodiak as I head out towards the Aleutian chain of islands towards the only island in Alaska involved in WWII battles.
From there, I embark on the longest leg of the journey, to St. Paul island. Mainland Alaska is my next stop after which I head north through Bethel towards Nome. I'll take a little detour past LIttle Diomede as I head north through Kotzebue and Wainwright to the northern-most point in the USA, just north of Utquagvik (formerly Barrow). From there, I'll head towards the oilfields of the North Slope, stopping at Deadhorse before heading south towards the interor of Alaska. Fort Yukon and the hot springs north of Fairbanks are a couple of the stops before I pause momentarily in Fairbanks proper. In fact, Fairbanks International will be the largest airport up to this point of this trip.
After Fairbanks, I'll set my sights on Denali National Park. I trip by airplane must include checking out the highest peak in North America, Denali. From there, I'll head south, stopping in Palmer and Girdwood before my trip ends in Anchorage.
All together, 46 airports. Using point to point visual navigation, it's about 23 hours of total flying time although in reality I suspect it'll be much longer than that. Partially because I haven't taken into account sightseeing and also because taking off and landing takes time as well. As far as distance, the trip clocks in at around 5,273 NM.
Except for three legs, each flight is less than an hour. On average, each flight is about 32 minutes.
Now, tomorrow I'll take off and see how this trip goes.
For those of you flying similar trips yourself, what's been your favorite routes?