As I'm writing this, the first leg of my trip around Alaska is complete. I departed Prince Rupert Island the other day using the Beechcraft King Air with my sights set on Ketchikan, Alaska.
It was a bit of an overcast day with a relatively low cloud ceiling at 2,000 feet. As I took off, I couldn't help but wonder how far the clouds reached and whether I should stay beneath the clouds or try to complete the flight above the clouds.
I ended up ascending to above the cloud cover at first, just to take a peek, if only just to take a look at what I've found to be a beautiful layour of clouds. I wasn't disappointed. It was beautiful. But, I also quickly realized that continuing above the clouds wasn't the best idea. The path from Prince Rupert to Ketchikan began with a large open body of water but closer to Ketchikan, open water gave way to islands that at times reached high enough to be potential obstacles during a descent through the clouds.
So, I descended through the clouds and continued the flight below the clouds. Although it was overcast, the scenery was still beautiful. The costal waters, the islands and a strange amount of lighting the accompanied my flight the whole way. In fact, lightning struck with some regularity throughout the flight, at times directly in view through the front windshield. It was quite the spectacle.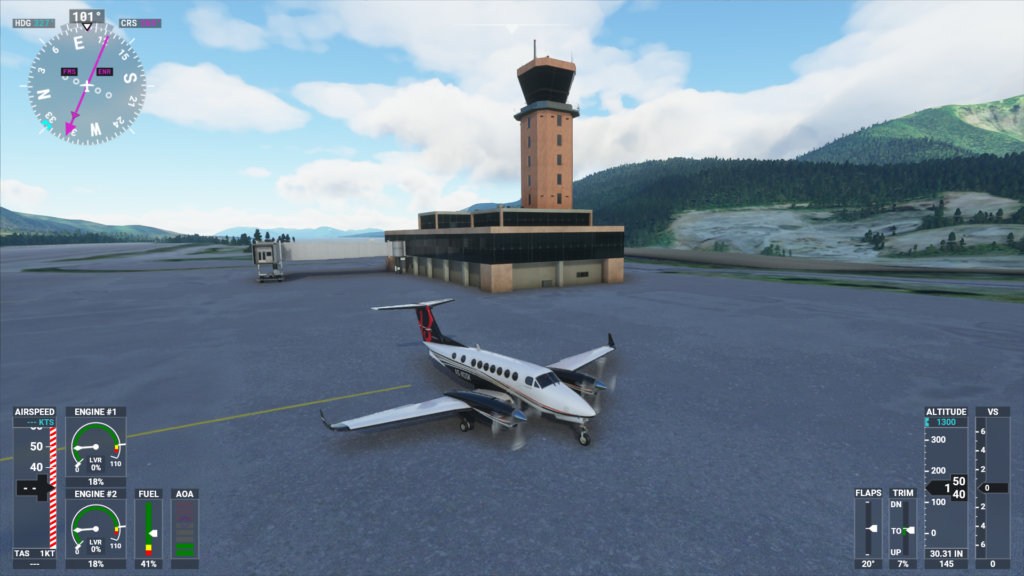 The flight itself was uneventful and the landing was easy as it was a straight shot in from the south. The only thing that I kept thinking about is whether the Beechcraft King Air is the right airplane for this trip. Although I like this airplane because of its twin engines, I also realized during this flight that  the engines block the view quite a bit as when compared to other planes. I did a flight with the Citation jet the other day and the view was fantastic from the cockpit. Of course, for my purposes the jets aren't quite what I'm looking for so I'll stay away from those for sure but I may explore some of the other prop planes. The Cessna 208 is a common aircraft used by airlines in Alaska so using one of those may be even more fitting in more ways than one, not to mention the view is a little better.