Since I restarted my career in American Truck Simulator, I've reconsidered my approach to the game a bit. Last time around, I didn't really have too much of a goal beyond maximizing dollars to time spent driving. Incidentally, as I'm starting over, the amount of time I have for gaming is also less than it was before for a variety of reasons I won't bore you with. At least for the immediate future, short to medium trips make more sense for the immediate future.
I've setup shop in the Sacramento area. Why? It's not because I particularly like Sacramento more than any other location. In fact, I don't like driving in California with it's lower speed limits for trucks. I picked Sacramento because I know there's a Mack truck dealer there. I simply wanted to start out with the Mack this time around as I didn't get a chance to in my last career.
Obviously, starting out you've got nothing. You take quick jobs to get a few bucks. The heavy, special transport stuff by far gives you the most money for a single trip but they do take a bit longer because they're harder to navigate. In the end, I ended up doing a few of the heavy jobs and then some random trips throughout the various states before the banks finally approached and agreed to give me a loan. Now, I've got my Mack truck, I've got the best engine money can buy this early in my career and I'm off hauling the biggest loads I can find.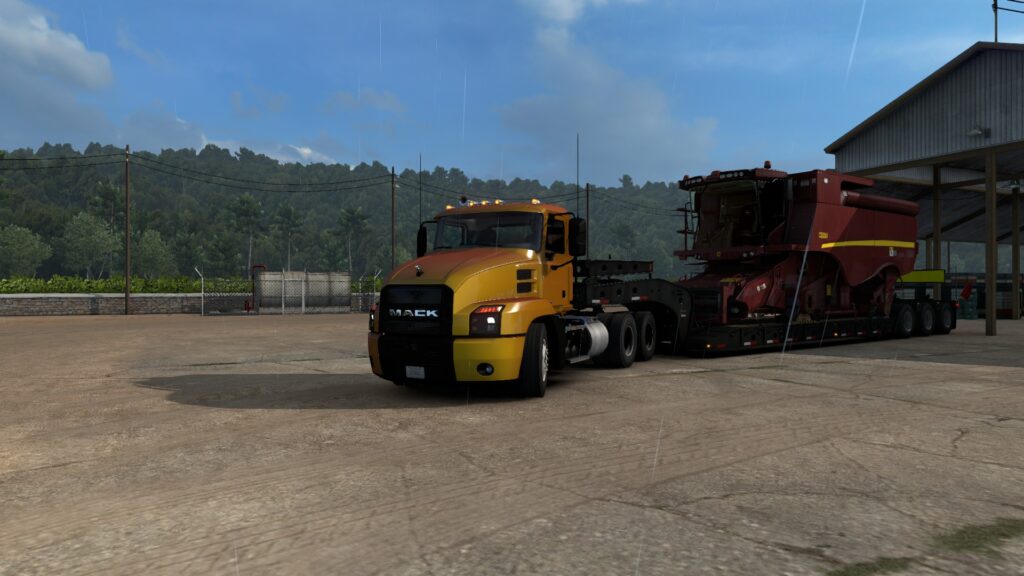 I'm going to start out with California by taking smaller jobs throughout the state. One of my goals is to get the "explored" percentage higher than my last go around. That means focusing oin smaller local jobs that go to the various communities in the various states. I'm going for all the cities in California and then we'll see where next.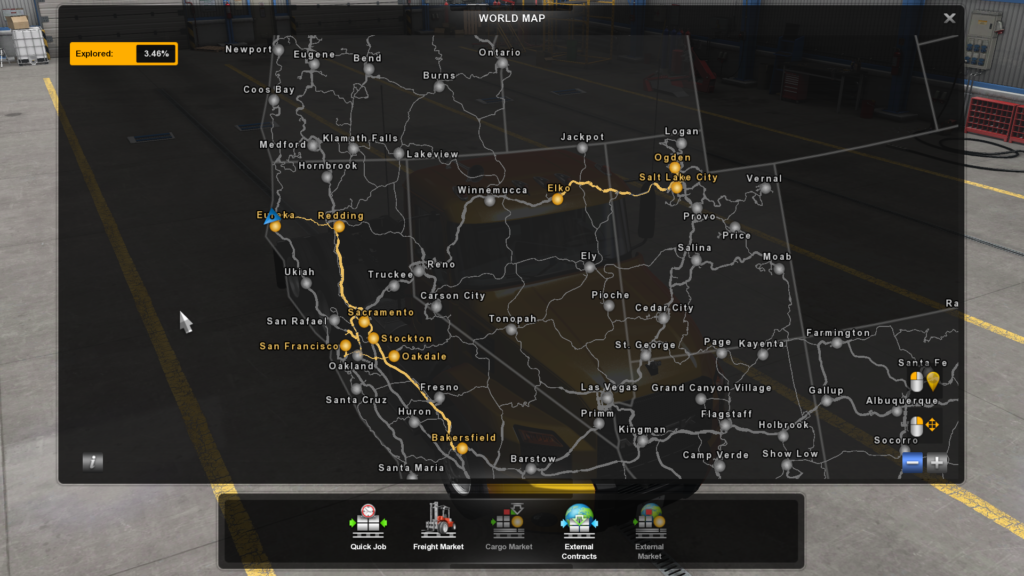 The first few trups have just been around the Sacramento area. Yesterday, I headed up to Redding and then this morning, I took a shorter trip to Eureka with a large loader. Honestly, with the over 100 hours I have with ATS, I think I've only been to Eureka one other time and most likely, I passed through heading north.
The trip to Eureka was actually quite atmospheric. It started out with rain in the early morning hours, which made pulling a long and heavy load interesting in itself. The rain dissipated closer to Eureka only to change to a proper downpour as I pulled into my destination. You can watch the last part of the trip below as I experimented with the GeForce overlay for recording my sessions (I may end up doing those live at some point).
I have to say that the rain is one part of ATS that I absolutely love. The smattering on the roof, the rhytmic movement of the wipers and the water streaking across the windows while one of the streaming stations is playing on the radio. There's nothing quite like it.
Anyway, I'm all set for another load down to San Rafael. That might be later tonight, we'll see. Depends on when I'll have time again.